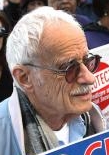 Submitted by Marvin Miller
May Day, May 1, International Workers' Day, which originated in the U.S. but is celebrated mostly elsewhere, is an appropriate time to think about labor.
Throughout human history until very recently, the acquisition of subsistence has depended on the effort of muscle, both human muscle and that of their domesticated animals. This dependence began to change with the industrial revolution when people learned how to use non-muscular energy — wind, water, steam, and electricity. Now, most of the energy that people use is not muscular.