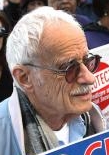 Submitted by Marvin Miller
Religions and governments are involved in ethics: they tell people, by commandments, laws, etc., what they want people to regard as the right thing to do.
Our society is the most inefficient in the world.
In physics, efficiency is defined as the ratio of useful work done to total energy used. Americans use more energy per capita than the people of any other country. But we don't live better than people do in other technologically advanced countries. Those of us who have jobs work longer than people do elsewhere. We don't spend less time getting to and from work than others do. We don't have more time for lunch breaks, vacations, leave for family care, or holidays than others do.