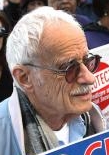 Submitted by Marvin Miller
The Boston Ethical community  has recently been giving its refreshment basket donations to Boston Health Care for the Homeless. We have given our Humanist of the Year award to people involved with providing services for homeless people, dating back to 1983. But why, in 2016, in the richest country in the world, are some people homeless?
Housing is one of the universal human rights in the UN's Universal Declaration of Human Rights (1948). The right of every family to a decent home is one of the rights that President Franklin Roosevelt said, in his 1944 State of the Union message, that the United States has accepted.